"So many talented Detroiters have amazing ideas, but don't know how to make them actionable and turn them into a livelihood. The Walters Family Foundation is helping us lower the barriers to small business ownership and advance entrepreneurship."

April Jones Boyle, Founder and Executive Director, Build Institute
The greatest untapped asset in the city of Detroit is people with ideas. For decades, Detroit's native talent was neglected in the face of economic upheaval. Today, access to professional opportunities and small business ownership continue to be a challenge, particularly for people of color and women.
Build Institute helps Detroiters turn their business ideas into reality by providing them with the necessary tools, resources and support network in the city. Its flagship program, Build Basics, is an eight-week business and project planning class for aspiring entrepreneurs that covers the nuts and bolts of starting a business – from licensing to financial literacy, market research and cash flow. Students leave the class with a completed business plan, a community of fellow entrepreneurs in Detroit, and the knowledge and confidence to take their idea to the next level.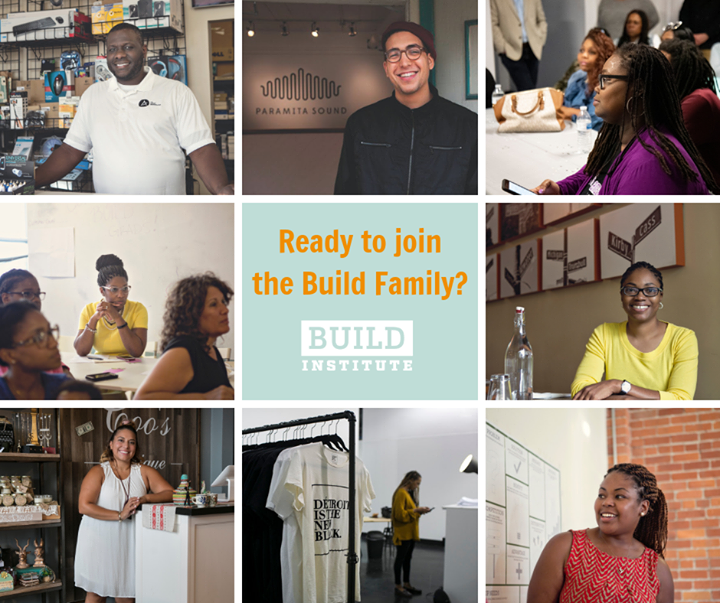 In 2019-2020, a Walters Family Foundation grant funded two cohorts of students through the Build Basics program. The Foundation also provided support for Build Institute's expansion to a new location with updated technology, furniture and supplies.
To date, over 2,000 aspiring and experienced entrepreneurs have graduated from Build Institute classes, many of whom have gone on to start successful businesses in Detroit including businesses such as The Farmer's Hand, Good Done Daily, Detroit Horse Power, Detroit Cakes and Bakes, and Detroit Vegan Soul. Nearly 83 percent of graduates are women and 63 percent are people of color.
"Traditionally women and people of color have been cut out of opportunities for entrepreneurship," says Jones Boyle. "We have to make a very concerted effort to invest in those populations if we're ever going to truly walk the walk of inclusion. The Walters are very passionate about entrepreneurship and equity. I don't think our values could be any more aligned."
During the COVID-19 pandemic Build Institute has also been able to provide critical help to small businesses in Detroit that have been disproportionately affected. The organization has connected entrepreneurs with grant opportunities, provided regular wellness check-ins and pivoted their in-person course offerings to virtual learning.
"We really believe that we have to take care of our small businesses — they are the backbone of our economy," says Jones Boyle. "They create jobs that can't be outsourced. They help build or redevelop commercial corridors and neighborhoods. They preserve culture and a sense of place and community. Organizations like Build Institute need to persevere to be there for underestimated entrepreneurs when they're ready."