Cheboygan County, MI (July 10, 2018)—Starting in July, construction will begin on a project to reconnect 14 miles of upstream habitat on Milligan Creek. Milligan of Creek flows north from Duby Lake until it feeds into the Upper Black River a few miles north M-68. A cool- to coldwater trout stream that serves as a large tributary of the Upper Black, the health of Milligan Creek is important for supporting quality habitat and stream health in the region. Some species of fish that live in the Black River and Black Lake utilize Milligan Creek, particularly those seeking colder water.
Before the creek meets the river, its natural flow is impacted at Brady Road and Waveland Road by culverts that impede fish movement up and down stream. Huron Pines will replace the undersized culverts with new 35-foot wide plate arch structures with project support and funding from the Michigan Department of Natural Resources (DNR), the U.S. Fish and Wildlife Service, the Walters Family Foundation and the Cheboygan County Road Commission.
According to DNR fisheries biologist Tim Cwalinski, Milligan Creek is a key tributary to the Black River in its lower reaches. "We did extensive fisheries surveys and stream inventorying on the creek from 2006 through 2011 at the request of some local landowners and anglers. The creek supports a unique brook trout community, but can warm up considerably in the lower reaches. One recommendation from that study was to remove and replace the culverts at least at Waveland Road which were perched. These culverts acted as a complete barrier to upstream fish movement, especially in low water periods. These low water periods often coincided with warm summer temperatures which is when brook trout upstream migration was typically prevented. Proper replacement of these structures will improve fish passage and overall stream connectivity", said Cwalinski.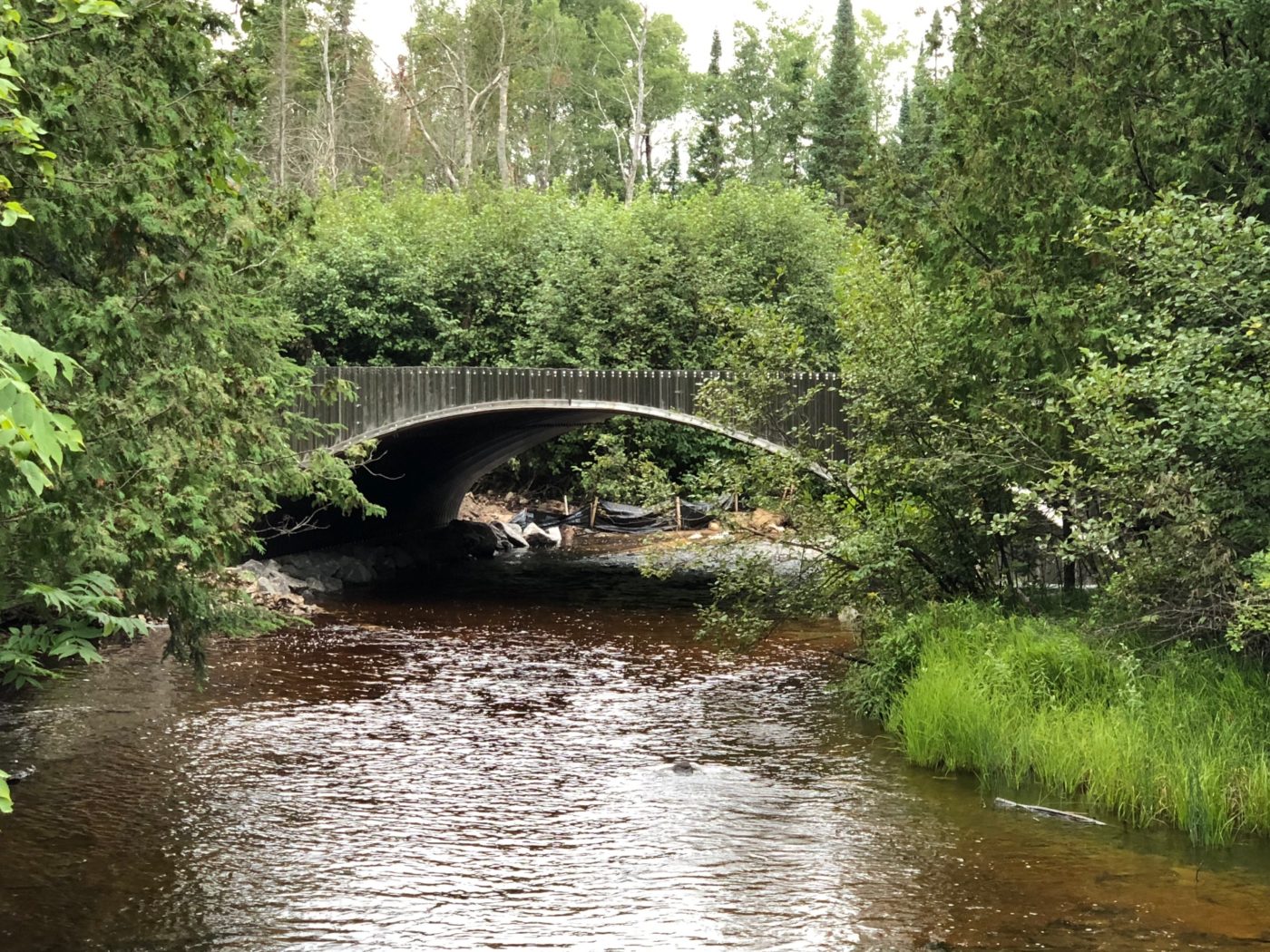 The updated infrastructure, which includes resurfaced roads and better drainage, will also prevent future issues like flooding, sediment build-up and pollution that can come from extreme weather like excess rain or large snow melts that wash water from the road into the river.
"Huron Pines is lucky to have such strong partnerships in Cheboygan County and beyond," said John Bailey, Watershed Project Manager at Huron Pines. "These partnerships are what make large projects like this possible. In addition to our longstanding partnerships with the road commission, DNR and U.S. Fish and Wildlife Service, this project has given us the opportunity to work with one of our newest supporters, the Walters Family Foundation."
"We are very pleased to award one of our first grants to the Milligan Creek restoration project," said Peter Walters, Treasurer of the Walters Family Foundation. "One of our priorities is to support the preservation and restoration of Michigan streams, rivers and lakes. Providing free movement of fish up and down Milligan Creek is in line with our priorities."
A temporary bridge will be installed at Waveland Road to divert traffic during construction which will begin in July and finish in August. Once completed, the reconnected stream miles will support a healthy river corridor which promotes healthy fishing, birding, hiking, kayaking and scenic views providing recreational and economic benefit to the region.
Improving inland road/stream crossings has a positive impact on the entire watershed, which includes all of the streams, rivers and lakes in the region. By ensuring cleaner, colder and less polluted inland waters, the quality of Lake Huron and the entire Great Lakes Basin is strengthened.
Article Source: Huron Pines
https://huronpines.org/2018/07/10/milligan-creek