"In Detroit, finding affordable food production space is a challenge for many small food entrepreneurs. These businesses need ready-to-occupy spaces in the range of 1,000 - 2,500 square feet that they can rent for $7-12 per square foot. Without this access, many food businesses fail to thrive."

Dan Carmody, President, Eastern Market Partnership
Detroit, MI (November, 2021) - Eastern Market Partnership is known for connecting Detroiters to fresh and affordable food. They also excel at providing a suite of tools to help food-based businesses launch, scale-up, and succeed.  Since 2015, Eastern Market has offered affordable shared commercial kitchen space. Now, with support from a Walters Family Foundation grant, its Eastern Market Metro Accelerator is going a step further. This 15,000-square-foot facility is divided into eight ready-to-occupy suites for emerging food businesses to expand their production, limit displacement and keep creative entrepreneurship within the Eastern Market district. It also provides invaluable business coaching support and networking connections.
Currently, four entrepreneurs have found a home in the Metro Accelerator. These passionate creators are whipping up everything from lemon "butta" pies to creative jams, homespun ice cream and farm fresh fixings for Sunday brunch.
Lush Yummies Pie Co. is one such tenant, led by Jennifer Lyle. The Walters Family Foundation has championed Jennifer's "butta" pies from the very beginning, providing funding for Lush Yummies' brand identity, logo, font suite and package design. Since establishing herself in Eastern Market's Metro Accelerator, Jennifer has increased production capacity and landed new accounts with Meijer, Kroger and several smaller regional markets. Her delectable pies have even landed on Oprah's Favorite Things list!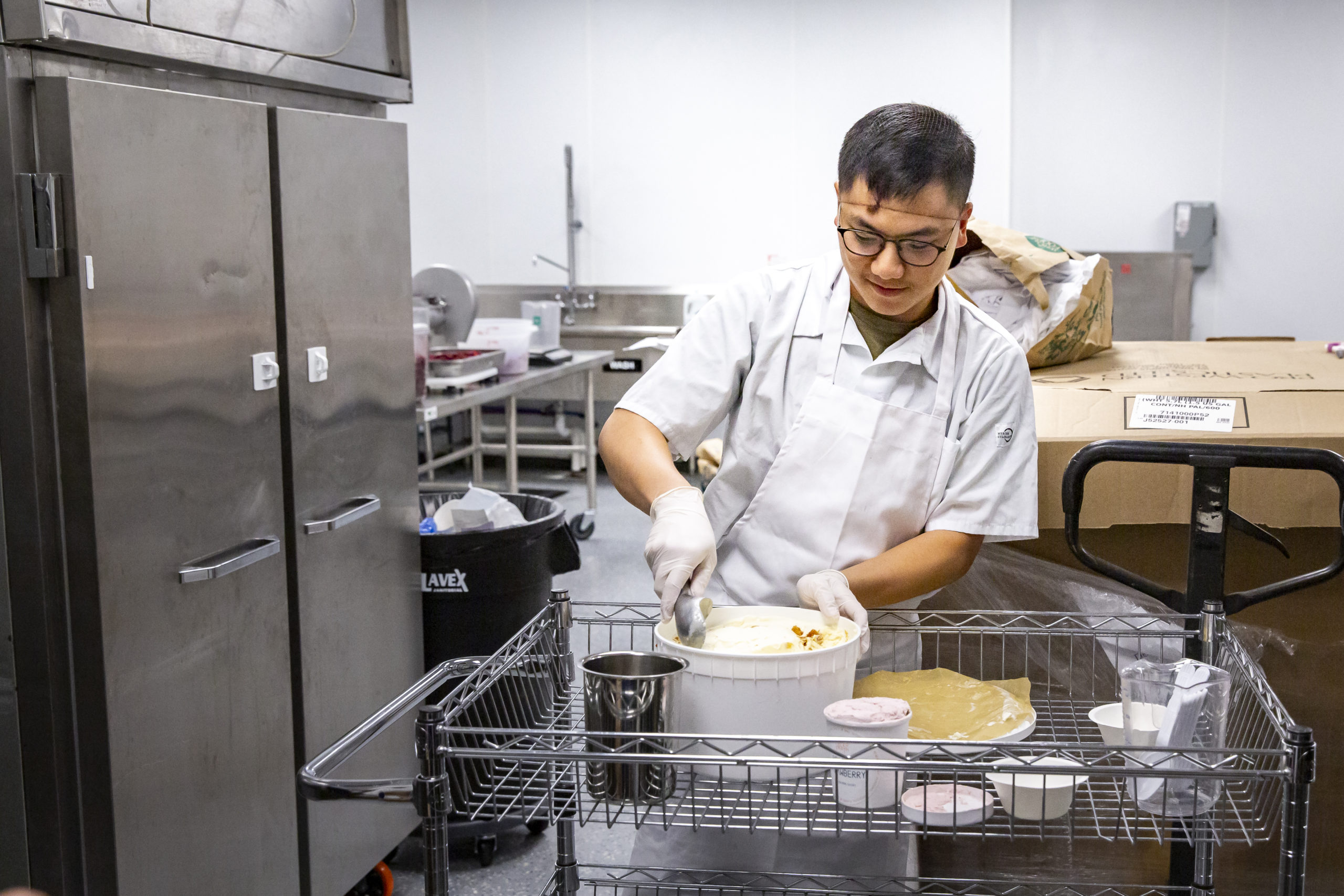 "These businesses have been able to shorten the runway to success and scale more rapidly than they would have otherwise," says Metro Accelerator consultant, Brandon Seng. "What we're seeing is businesses that are able to strengthen their enterprise to operate at the next level."
This is also true of Tara Grey's Gus & Grey jams. Since becoming a tenant, Tara's batch size has increased by a factor of ten. She's also grown her regional presence and landed new accounts with several hotel chains. What's more, she was able to utilize Metro Accelerator relationships to access affordable jar sealing equipment. This enabled her to automate expensive, time-consuming production processes.
Alexis Matteson and Deion Cao of Milk & Froth Ice Cream are another Metro Accelerator success story. Cao grew up in a family of immigrant entrepreneurs, dreaming of one day opening a restaurant of his own. He and Matteson saw a gap in the Detroit market for craft ice cream and began experimenting with bold flavors. Since moving into the Accelerator, they have established a scoop shop in downtown Detroit and plan to begin wholesale distribution within the next 18 months.
"It's the classic American dream story. Deion is establishing a business the same way that his parents did, but with more knowledge and fewer barriers," says Seng.
The Metro Accelerator's fourth tenant, Sunday's Best, will soon fully occupy their new space, expanding on the explosive growth they've experienced in their catering business. Owners Megan and Niko Ahee plan to use the Metro Accelerator to level out their production costs and increase capacity to meet surging demand.
"Sunday's Best moved from our shared commercial kitchen to a dedicated space that will drive their business and help them save on production costs," says Seng.
In addition to serving entrepreneurs, the Metro Accelerator has been able to answer the needs of Detroit's most vulnerable populations. During the pandemic, the building's unoccupied space was used to package emergency food boxes for families in need. This operation was supported by emergency funding from the Walters Family Foundation.
"At the height of the pandemic, we were one of the only markets in the country that was able to package and deliver groceries paid for by a Bridge card," says Seng. "Creating food security in an emergency situation is an absolutely necessity in our region."