"Small businesses are the backbone of our city, and of our nation. We're supporting entrepreneurs with tools to help them survive and thrive in the pandemic and beyond."

Amy Rencher, Managing Director of Entrepreneurial Program and Services, TechTown
Detroit, MI (February, 2021) - All across Detroit, small businesses are struggling to respond to the changing market conditions created by the coronavirus pandemic. Many are in need of critical business and technical assistance to transition in a crisis. TechTown, Detroit's most established business accelerator, is working with more than 400 entrepreneurs to ensure they weather the storm and move their business forward. Most of these businesses are low- to moderate-income micro-entrepreneurs that employ fewer than 10 employees. "These are legacy neighborhood business owners that have had to quickly shift to use and understand technology that they had shied away from, frankly, for years," says Amy Rencher.
With funding from the Walters Family Foundation, TechTown created a free twelve-month entrepreneurial education program that includes on-demand, expert-led public workshops and one-on-one coaching sessions that help entrepreneurs develop a core business and digital acumen. The workshops are virtual, topic-specific and guided by subject matter experts from TechTown's Professional Services Network. This network includes over 100 professionals in digital marketing, web development, finance, HR, fulfillment and logistics and more.
"Many of our experts are still small business owners who have grown their businesses over time. They are highly culturally competent and knowledgeable of the business climate of Detroit," says Rencher. "Part of the magic is that we intentionally bring in local entrepreneurs to teach the workshops – people who have been in the entrepreneur's shoes and can create a connection of trust."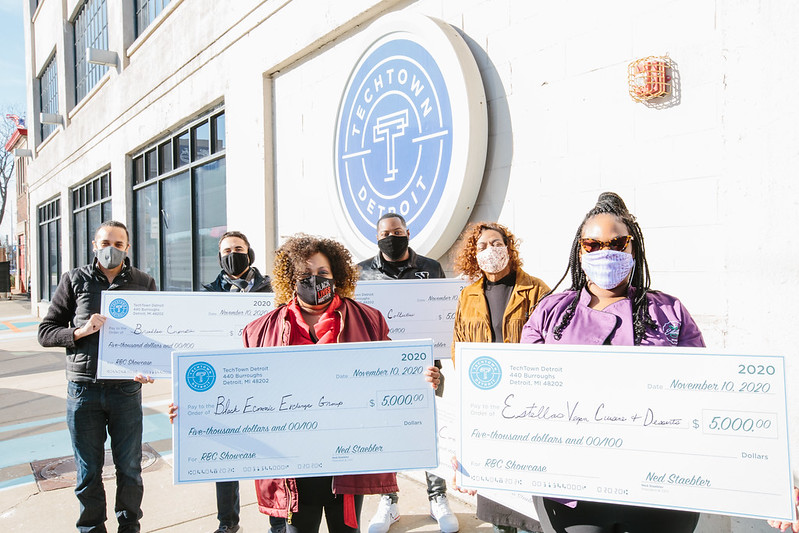 Workshop topics range from building digital skills to financial management to assessing technology needs. Some courses have tackled pandemic-specific subjects including how to file for unemployment, preparing PPP loan applications and tips on successful grantmaking.
To increase accessibility, courses are pre-recorded monthly and made available in an online library that entrepreneurs can tap into any time. TechTown made this format shift from live programming in early 2021 in an effort to reach more people during the pandemic.
"COVID has challenged us as an organization to think really critically about how to best serve folks," says Rencher. "We were thrilled that the Walters Family Foundation was on board when we made a programming change. Their eye for creativity and innovation is important. You don't often have funders who are at this level of investment that are engaged in this way."
At the end of each month, TechTown hosts a live Q&A video session with the workshop facilitator and up to 20 participants to encourage interactive peer-to-peer learning. Free one-on-one 25-minute consultations are also offered weekly. Participants can meet with the workshop facilitator, a TechTown team member or a member of TechTown's Professional Services Network. These sessions focus on directing businesses to resources that can help them meet their goals in this uncertain time and beyond.
"There's a ripple effect to servicing people at the small business level, particularly when they're at the smaller end of the scale," says Rencher. "Empowerment translates not only to the financial health of the small business, but also to their families. When you're building a strong business, you're building generational wealth. So the more support that we can provide to small businesses in the city, the better."