"This project is important as it will activate a redeveloping corridor on the edge of the Midtown district. The space will foster community connections, arts programming, support for entrepreneurs and serve as an outdoor space for a host of new commercial tenants."

Sue Mosey, Executive Director, Midtown Detroit, Inc.
In the heart of Detroit, Midtown, is one of the city's most exciting commercial and residential districts. While burgeoning with pockets of creativity and culture, Midtown is yet to have a central area that supports innovation, collaboration and enterprise.
Midtown Detroit, Inc. (MDI) is changing that with a visionary micro-district, The Selden Innovation Corridor, which fosters entrepreneurial uses and takes the region into the future. The corridor meets a growing demand for space to support new start-ups, entrepreneurs, small businesses and co-working models of all kinds. Along with redeveloping key assets, the vision refashions a vacant lot into a public courtyard and collaboration space with outdoor amenities and community programming. Currently, the corridor is home to the restaurant Smith & Co., with other exciting small businesses to make their debut in 2020.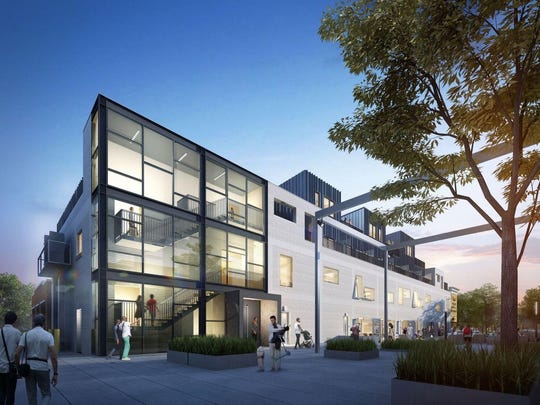 The Selden Innovation Corridor Courtyard includes 32 seating areas on a rail system that can be reconfigured in various seating arrangements to accommodate small group meetings, socializing and open-air workspace. The courtyard has a stage area with a projection screen and full audio that can be used for presentations, group meetings and community events.
MDl's design incorporates sustainable features that focus on creating an inviting community space while being environmentally conscious. These include a permeable pavement system and bioswale system that allow the courtyard to slow down and reduce overall water flow into the city's combined water system. This addresses a significant issue the city has been working to mitigate for several years.
The Walters Family Foundation provided funding to support the development of these sustainable systems, to offset significant drainage costs, ease storm water overflow issues and protect the area's environment. Construction is nearing completion and the courtyard could be open to the public as early as Spring 2020.
"We're excited about funding this project because it addresses many of our Foundation's objectives," says Carol Walters, Walters Family Foundation Board President. "We are assisting with environmental sustainability, while also contributing to a collaborative and innovative space that encourages small business development, minority business inclusion and entrepreneurship."