Stories of Impact
Economic Vitality
T.E.A. Helps Homeless Women Find a Path to Job-Readiness and Self-Sufficiency
Detroit, MI (May 2023) - On any given night in Detroit, homelessness impacts 14,000+ people, many of whom are Black women and children. These families often face insurmountable barriers including lack of access to employment opportunities and adequate transportation, challenges in mental health and systemic racism that make it nearly impossible to feel physically or financially safe, much less self-sufficient.
Stories of Impact
Economic Vitality
Empowerment Plan Breaks the Cycle of Homelessness and Launches Careers
Detroit, MI (May 2023) -Veronika Scott had a brilliant idea. While working on a college project to design for those in need, she came up with a sketch of a coat that could double as a sleeping bag. To hone the design and understand those who could benefit from it, she spent countless hours at a nearby warming center. Her idea quickly gained interest in the community, and by the time her class ended, Veronika received multiple coat requests.
Stories of Impact
Economic Vitality
Centrepolis Accelerates Entrepreneurial Ideas in Michigan Manufacturing
Southfield, MI (May, 2023) - Michigan's manufacturing landscape is brimming with incredible ideas. Whether it's the creation of eyeglasses made from discarded water bottles or the development of AI-based ergonomic monitoring, these diverse and creative ideas offer an exciting glimpse into the future. However, there is a funding gap for entrepreneurs and small businesses that are developing these new products, some of which have the potential to significantly advance innovation, sustainability, and design in Michigan.
Stories of Impact
Economic Vitality
Industrial Sewing and Innovation Center Creates Career Paths for Detroiters
Detroit, MI (April, 2022) - Veronica Williams was living in a homeless shelter when she started the Fundamentals of Industrial Sewing and Production (FISP) curriculum through Detroit's Industrial Sewing and Innovation Center (ISAIC). She was uncertain of her next step in life, but began to find new purpose as a student in FISP.  FISP trained Veronica not only in traditional sewing skills but in advanced and emerging technologies — all paths to high-potential careers throughout the sewn goods industry. For Veronica, this opened the door to a new beginning. She aced the course and had the opportunity to become one of ISAIC's first paid apprentices, the next step to a future with unlimited possibilities.
Stories of Impact
Economic Vitality
Lean Rocket Lab Empowers Local Entrepreneurs
Jackson, MI (April, 2022) - Felicia is a single mom living in Jackson, Michigan, with big goals of owning and running a food business. She's been diligently saving money with the hopes of eventually buying a food truck to launch her dreams . It's small businesses like Felicia's that drive communities and economies forward. In fact, 64% of the jobs created in the United States  in 2019 were created by small businesses. Yet at the same time, many small businesses fail to thrive due to financial, educational and social barriers. This is particularly true in small communities such as ,  Jackson, Michigan. One of the missions of Jackson's Lean Rocket Lab is to support local entrepreneurial ideas like Felicia's and give  small businesses the best chance to succeed.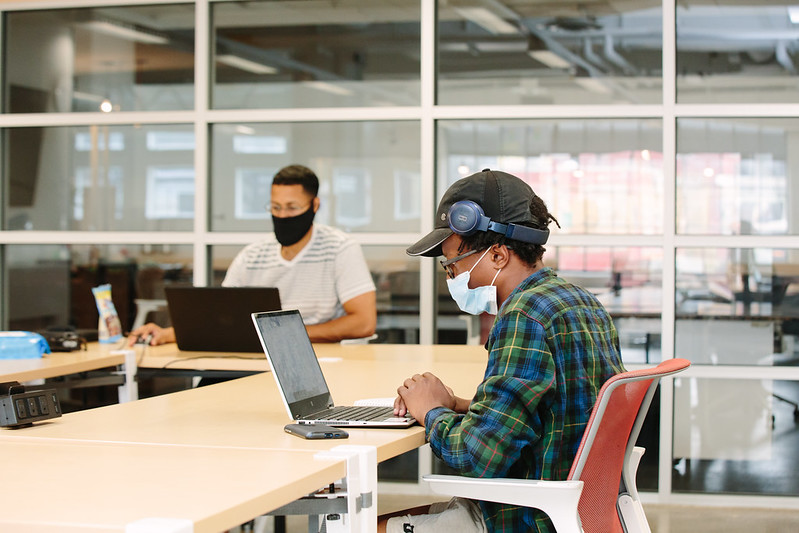 Stories of Impact
Economic Vitality
TechTown Supports Small Businesses in Uncertain Times
Detroit, MI (February, 2021) - All across Detroit, small businesses are struggling to respond to the changing market conditions created by the coronavirus pandemic. Many are in need of critical business and technical assistance to transition in a crisis. TechTown, Detroit's most established business accelerator, is working with more than 400 entrepreneurs to ensure they weather the storm and move their business forward. Most of these businesses are low- to moderate-income micro-entrepreneurs that employ fewer than 10 employees. "These are legacy neighborhood business owners that have had to quickly shift to use and understand technology that they had shied away from, frankly, for years," says Amy Rencher.